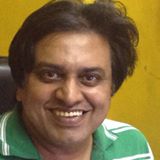 My Story
I'm a TechnoSpiritual entrepreneur, tech and life coach, corporate trainer, consultant, author, and speaker.
My passion for technology has been unabated in the last 31 years of my career.
Emerging Technologies (AI/BigData/IoT/Cloud/Blockchain/Cyber Security) are what piques me.
Spirituality happened to me two decades ago and I have been fortunate enough to realize my calling.
My mission is to usher positive transformation into the lives of people and corporates using technology and spirituality.
What can I do for you
Training (Technology / Spirituality / Self Help / Soft Skills)
Consulting (Digital Transformation / Solutioning / PMO)
Content Development (E-Learning, Presentations, Videos)
Writing (Blogs, Books, Booklets, White Papers, Listicles)
Life Coaching (using NLP, Meditation, Qi-Gong, Hypnosis, EFT)
+91 9867071790 (India)
Super Efficient
Save your money and time. Get power-packed resources like PPT, PDF, Videos, and Podcasts for all training and workshops.
Deeply Committed
Full dedication to training, content development, coaching, and consulting activities. Offering world-class quality training and content.
Highly Skilled
Possess over 30 years of experience in the IT industry in service delivery, corporate training, and content development.