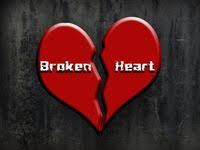 Koi jab tumhara hruday thod de (When somebody breaks your heart)
Tadapta huva jab koi chod de (When somebody leaves you to suffer)
Tab tum mere paas aana priye (At that time you can come to me)
Mera ghar khula hain (My house is open)
Khula hi rahega, tumhare liye (Will always remain open for you)
Now that is unconditional love. It's so hard not to hate those who have done something wrong to you. Or for those people who have put you down, when you needed them the most. Still, the life cycle goes on. We don't come here just to enjoy life. If we really did not know what pain is, how could we ever feel the depths of joy (happiness) or whatever it is that makes us feel good. Some people think that listening to sad songs makes you a Devdas (sorry feeling person). But it does not end there. We must let our feelings go. Have you heard the Beatles song 'Let it Be'? So, when you find yourself in times of trouble, just say 'Let it Be'.
You must be saying 'easier said than done'. And you know what, you are right. You may have your share of uncontrollable anger towards a person, a place, a thing, or whatever. Learn to get control. Never become a victim of anger. Whatever happened did so, because there is a lesson to learn from it. And that's the secret. Learn the lesson and then let go. How to let go? Chant a mantra – whatever you like. Or maybe just say 'Whoa!' loudly. Whatever is within the limits of your being (without letting others know) do that. See if it makes you feel good. The other thing you can try is to dwell on sweet memories. Imagine someone or something that makes you happy. Remember him/her or that place. And relax. Time heals everything.
The other thing I'll recommend is to count your blessings. Give it all to God, and he'll send you his blessings. A strong belief in something other than ourselves is necessary. You see, 93% of humanity believes in God. And even for those who don't, He/She is always there. Know that you can't control nature. (the feminine aspect of God) You may succeed partially, but never 100%. The reason being that it's too vast and there are so many variables. Imagine trying to get to your work in the morning and back to your children in the evening. Can you guarantee that? No way. Poof! That's all it takes for you to get obliterated. So be aware of your mortality. Do the best every day. Because every single day or moment is a gift from God. Don't waste it.
Get your act right. Know that life is a 2-way game. It doesn't work out when you just want to receive. You must be able to give at least 10 times more than you receive. Now, that's a number that I just cooked up now. Not written on stone. However, life is a give-and-take business, my dear friend. And the more you seek help, the more people will seek your help. Give gently and as much as you can. Because this gift of life comes with the big 'S'. Share. But be wise. Don't be gullible. Your first duty is to yourself. If you are not alright, how can you help others? Well, most of us are complete but not perfect. (Yes, I read that somewhere) Our journey is one of perfection and onwards we go towards that which is a 100% (God) and just to be in his loving presence will make our lives worth living. So Live. Laugh and Love.
Sending you lots of light …
God Bless!